Customer Reviews
23/04/2021
Trish

Australia
I recommend this product
excellent comfort and style
Was unsure about ordering online so I asked for advice and the information was helpful and the shoes fit really well. They are as comfortable as other natural type shoes but look neater and smarter and versatile. In my 70s and not especially sporty yet do need to keep moving and these are great encouragement. I like the light weight flexible materials. Occasionally I wear a minimal orthotic instead of the lining with no problem.
16/03/2021
Tracey M.

Australia
I recommend this product
Love love
I have suffered for many years from an ongoing corn after breaking my little toe and it's hard to find comfortable shoes especially if your foot is wider, I saw these on Facebook and thought I would give them a try as they started they were wide fitting. I can honestly say I am amazed how comfortable and wide fitting they are, I'm so in love with these shoes they are amazing and the customer service is also 5 star ⭐️ Thank you so much bprimal very happy customer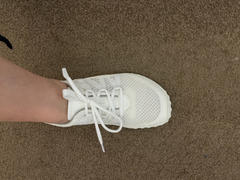 12/01/2021
Anonymous

Australia
I recommend this product
Great shoes and service
I was unsure of what size to get and got good advice. Love the shoes. Very comfy!
16/11/2020
Jane
Marrickville, New South Wales, Australia
The only shoes I wear now
I have three pairs of Joe Nimble, Nimble Toes shoes - I started with the white (great with summer dresses), then the black (for work - still count as 'closed in' shoes), then the blue (just because I love the colour - and they are great with jeans). I've tried several other brands of barefoot shoes, but all have their downsides (too tight, too heavy, too thin sole). These are the only shoes I wear now. They have plenty of room in the toe box, but don't feel loose. They are nice and snug around the laces, without being too tight. They are light-weight and flexible. They are comfortable from the first wear. My feet don't get too hot in them, and I don't need to wear socks on a hot day as they don't smell. They're warm enough for the winter (with socks). They're not waterproof, but they dry quite quickly (and I purchased some 'over shoes' from eBay for a couple of dollars that go over them easily if it's really wet underfoot). I absolutely love them and am so happy to have finally found shoes that are comfortable, don't 'damage' my feet, and look good. I have very wide, but shallow feet so finding shoes that don't cramp the toe box, but also aren't too deep has always been a challenge. The result of wearing shoes that are too tight in the toe box (and too high in the heel) has been a bunion on each big toe and tailor's bunions forming on my little toes. More concerning, though, I have had a Morton's Neuroma on each foot that has required surgery. After less than a year of wearing the Nimble Toes (and almost nothing else) the bunions have started to correct themselves. Sadly, there's no way around the Morton's Neuroma other than surgery, but I'm confident that neither will come back - or form between my other toes - now that I'm in the right shoes. I've given these shoes a five star rating because they absolutely deserve it. Can't recommend them highly enough!
01/11/2020
Amalia
South Yarra, Victoria, Australia
Great
Beautifully crafted shoes. I can wear my correct toes in it. Looks cool. Love the fact the front is broken up by leather all around it making it look narrower than it actually is. It's my first pair of wide toe boxed shoes so I am still getting used to walking in a more natural sole.