Customer Reviews
20/04/2021
Anonymous

Australia
I recommend this product
Lems - Primal 2
The shoe is great and fits true to size as advertised. I went for a 7km walk on the first day of use and the shoe felt as though I'd been wearing it for years, no breaking in period required!
12/04/2021
Anonymous

Australia
I recommend this product
Fantastic Shoes! Remember To Wear Toe Socks...
I have been wearing my Lems Primal 2 for a couple of weeks now. I am very happy with these shoes. My toes are free to move, and my feet feel more stable and grounded, and less restricted than in traditional running shoes. They are comfortable, and they look good on my feet. I have been wearing these shoes on long walks - the longest being 20kms. Before Lems, I was wearing 'normal' Nike running shoes, and I would develop blisters within the first 2-3kms. With Lems, I have had NO blisters whatsoever, which is a first for me! With Lems, after about 15kms walking, I have experienced some pain on the bottom of my feet. But, I think this might be me getting used to wearing thinner soled shoes. I plan to invest in some gel insoles to see if it improves things, at least until I am more used to the Lems. These shoes work best when I am wearing the Injinji toe socks - in 'normal' socks, my feet slide around, and my toes curl under. I actually thought my Lems were too small at first, as the 'normal' socks make my toes hit the end of the shoe when walking. With the Injinji toe socks, this doesn't happen. I would say that if you aren't getting on with the Lems, or you are still experiencing toe cramping, etc, try them with the toe socks as well, as the difference is very noticeable. Finally, the team at bPrimal were really helpful, and gave excellent advice on my choosing the right size of shoe, and my shoes were Express delivered the next day. I would definitely recommend bPrimal as an excellent online shopping experience.
11/04/2021
Chitra S.

Australia
I recommend this product
Excellent minimalist shoes
This is my first minimalist shoe; they are incredibly comfortable and look pretty good. I'm very happy with them. The only issue I had was I got a size too big. I looked up my size using the table on the Lems website (after measuring my feet); I had to exchange it for a size down and so paid extra for shipping. I was aware of this risk considering I purchased this shoe online though. Overall quite happy as the exchange process with bprimal was straightforward and painless, and the shoes incredibly comfortable. I highly recommend the product.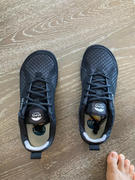 31/03/2021
Anonymous

Australia
I recommend this product
Lems - Primal 2 - Black (Unisex)
These are my very first zero-drop shoes, and I can highly recommend them. I find them very comfortable with plenty of room for the toes to spread. The heal support is a bit high, and I would normally end up with blisters after five minutes of wearing. But not with these shoes, they are very soft and do not cause any trouble at all. I am wearing them always with socks. The sizing chart is rather confusing. My foot length is 24.9cm, and my guess would be to choose the size 7.5 (women's sizes), according to the chart. However, I made an enquiry per email, and Faye advised me to choose size 8.5. The shoes fit perfectly. There is just enough room for a thicker sock if needed.
23/03/2021
Rene S.

Australia
I recommend this product
Lems forever
Love my new lems, the extra wide toebox really is wonderful. I had to put in a thicker insole for a bit of extra comfort. So far its heaven.