Customer Reviews
03/12/2021
Anonymous

Australia
I recommend this product
Great Shoes
Great boots… great fit and great to walk in…
27/09/2021
Brooke

Australia
I recommend this product
Love them!!
These are my first pair of barefoot shoes and I already love them! They feel like amazing quality and required no breaking in. I used to love wearing combat boots, these are the barefoot equivalent and a fraction of the weight. I ordered as suggested (1 size up from normal) and they fit perfectly.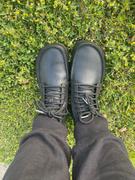 18/09/2021
Andrea H.

Australia
I recommend this product
tough alright
I chose the boulder boots because the lacing starts above all toe joints, which was the perfect fit for my hallux rigidus (upper big toe joint affected by osteoarthritis). The boulder boots are an absolute joy to wear. I wore them on a work trip (camel expedition in the Simpson Desert/Munga Thirri), kicking up sand up and down the ridges all day. After about 150kms I realised that a lot of sand was trapped between leather outer and inner lining of the boot, which had entered through the seams on top of the boot. The boots had become heavy and my toes were crammed due to the sand bolsters that had formed Note to myself: boulder boots are not a desert boot . I managed to knock the sand out and sealed the seams with shoe gue, good to hold up for the next 10 days of trekking . They kept my feet warm&dry on a rainy day. Now I wear them in the workshop everyday. I am going to tick 'true to size', but it was the bprimal shop team recommending the size to me, my feet are appr. 24.6mm long and 9.5mm wide, medium instep. The boots' fit is roomy-ideal for a woollen pair of socks, which I recommend for cold environments.
23/07/2021
Anonymous

Australia
I recommend this product
Incredibly comfortable, sturdy, light and spacious shoes
Received the shoes with no issues, they came quickly and without a fuss. The first time I wore them was for an 8 hour shift at work, where I do I a lot of walking. They were so comfortable. I feel light on my feet when I wear them but still feel protected and like I'm wearing a boot. I haven't taken them off since. Very happy with my purchase.
23/07/2021
Anonymous

Australia
I recommend this product
Awesome boots!
Highly recommend!