Customer Reviews
10/02/2021
Anonymous

Australia
I recommend this product
TOPO ST-3 Womens BLUE
I have purchased these shoes on the recommendation of my podiatrist and physiotherapist after an ankle reconstruction. I have found them to be the most comfortable and suitable everyday shoes after trying three other pairs. My podiatrist has modified my orthotics to fit and I now feel I can resume walking comfortably. I would like to purchase in another colour too.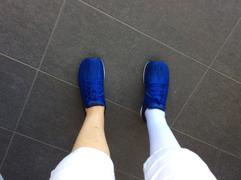 20/09/2020
JULIE D.
Brisbane, Queensland, Australia
COMFY AS
Although I LOVE my Lems Primal 2 shoes, I found that they didn't offer the protection I needed against the very sharp stones on our road after suffering a bruised heel. Hence, I purchased these Topo ST-3's for more foot protection and thus far, they seem to be doing the job. I certainly don't need to be so intent on where I am placing my feet as far as the stones go. What I like: that they are zero drop and offer more cushioning between me and the road without being too squishy and that they are super light weight. I do miss the ground contact feel that I get with my Lems however. My observations: the instep across the top of my foot is a little more firm than my Lems. Perhaps with time they will loosen up a bit but they don't bother me on my 5 km walk. Another minor thing is that I would have liked the shoe laces to be another 3 cm longer as I use the heel lock lacing system. I also wonder if they will be too hot to wear in the heat of summer (QLD) as they appear to be less breathable than my Primal 2's which are fabulously breathable. Time will tell. Finally, I would have liked a little more external toe protection (such as vegan suede or thin rubber) across the top of the toes as I can see that there is the potential for this area to break down. There is a rubber kick pad, but I feel it is inadequate. There is also an internal piece of fabric across the top of the toe region but I prefer one on the outside. I also suspect that these shoes may lose their shape around the toe region over time and that is another reason for preferring to have some additional external toe protection that will help to preserve the shoe structure. Overall, they appear to be a well made shoe and the outer sole looks to be sturdy. Having only had them for two weeks, it is far too early to tell how they will hold up but regardless, I am happy with my purchase at this point in time.
06/07/2020
Emily H.
Sydney, New South Wales, Australia
so shoes ended up being too narrow, but the service was amazing. v quick and I got heaps of help from Faye- she was fabulous and really knew her stuff. thanks Faye and bprimal v happy to order from you again