Customer Reviews
I recommend this product
Great everyday shoe
Very comfy everyday shoe. The deep black colour and style match with a variety of different outfits (work, casual, exercise) had to get a half size down from my normal size though. Wouldn't where in wet weather though...
07/04/2021
Anonymous

Australia
I recommend this product
Good fit, lightweight, poor lacing system and heel security.
Fit was true to size, they were light and breathable. Unfortunately, the lacing system secures the forefoot well but doesn't provide lock down in the rear with the sliding of my heel. I wouldn't feel confident in running in them.
09/02/2021
Elden

Australia
I recommend this product
Great build quality
These were a slow burn for me. The highest lacing point is still very low on the foot so they felt very insecure on my feet. I didn't have any heel slip though, and after breaking them in and getting used to them they are my new favourites. They replace the Primal2 for me, with far better materials and build quality, and a better sole shape for my taste. They have stayed looking crisp without mesh holes or excessive sole wear. 12 month heavy wear review.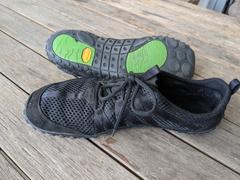 14/01/2021
Mark P.

Australia
I recommend this product
Love 'em
Did a bunch of reading about the next set of barefoot shoes to get and the NimbleToes really appealed. Previously had a pair of xf210's and thought there was a fair bit of room in the toe box. But the nimbleToes have even more room and I love it. Use the printable size sheet on the JoeNimble website to check your sizing. I did and they fit perfect.
25/11/2020
Owen
Greensborough, Victoria, Australia
My calves are burning
These shoes are great, thank you. I was developing a painful case of tendonitis in my Achilles' tendon as a result of some new Nikes, and these barefoot running shoes have really helped alleviate it.