Customer Reviews
09/02/2021
Elden

Australia
I recommend this product
Great build quality
These were a slow burn for me. The highest lacing point is still very low on the foot so they felt very insecure on my feet. I didn't have any heel slip though, and after breaking them in and getting used to them they are my new favourites. They replace the Primal2 for me, with far better materials and build quality, and a better sole shape for my taste. They have stayed looking crisp without mesh holes or excessive sole wear. 12 month heavy wear review.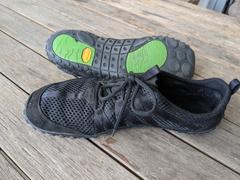 14/01/2021
Mark P.

Australia
I recommend this product
Love 'em
Did a bunch of reading about the next set of barefoot shoes to get and the NimbleToes really appealed. Previously had a pair of xf210's and thought there was a fair bit of room in the toe box. But the nimbleToes have even more room and I love it. Use the printable size sheet on the JoeNimble website to check your sizing. I did and they fit perfect.
25/11/2020
Owen
Greensborough, Victoria, Australia
My calves are burning
These shoes are great, thank you. I was developing a painful case of tendonitis in my Achilles' tendon as a result of some new Nikes, and these barefoot running shoes have really helped alleviate it.
06/08/2020
Dat D.
Monbulk, Victoria, Australia
Great shoe ruined by poor lacing
The shoe felt perfect however the lace holes barely go up high enough so heel slippage was an issue. I could tell though if there were properly placed laced holes I could've easily done a heel lock and it would be all good. Unfortunately that was not the case.
28/02/2020
Barbara B.
Perth, Western Australia, Australia
Beautifully Made Shoe.
I was going to search these shoes out in Germany when I am there later this year and was pleased to find them on an Australian website. Straight out of the box these shoes are very comfortable, they are soft inside so no problems to wear without socks. The Vibram sole does give them a sturdier feel than say Vivobarefoot Stealth, almost like a trail shoe feel, but I think they will last much longer because of this. They still have very good ground feel and flexibility. Compared to my previous shoes they don't seem to have as much airflow through them but this is just an observation, not a negative. I plan to train in them in winter and race in them in Iceland later in the year so this will mean I can continue to go sock-less without getting cold feet. Having said they are definitely not hot on my feet just not as "airy". I am very happy with them overall and enjoying my runs in them.