Customer Reviews
25/06/2021
Anonymous

Australia
I recommend this product
Fantastic
I have a very wide, high instep foot and it is extremely hard to find a comfortable shoe. Add an ingrown toenail and nothing was comfortable until I found these wonderful shoes. I put them on and haven't taken them off since. No pressure anywhere, not even on my sore toe.
22/06/2021
Marie

Australia
I recommend this product
My go to!
I have been living in these shoes everyday for the last 3 months. I love them to bits. I love that I can just slip them on, and they look stylish for everyday wear. They are so comfortable - feel like I am wearing slippers. Great quality also. They are quite wide, so I could see they might not work for narrow feet, but they are perfect for me and so much room for my toes to splay and can wear them with Correct Toes also. I Usually wear a size 9, and I took a UK6.5 in the lace up Joe Nimbles, but had to size down to a UK6 in these. My toe was "just" touching the end at first, but once I wore them around a day or so, they stretched out a bit and are perfect fit now. I did try the 6.5 in these but they kept slipping off at the back, so the 1/2 size down was perfect.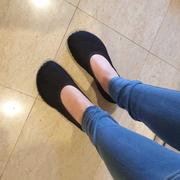 22/06/2021
jessie

Australia
I recommend this product
joe nimble primatoes
I needed a pair of "barefoot" foot-friendly shoes. And thought these might fit the bill. How wrong was I?. The mesh/foam/padded upper didn't look too professional, is better suited to casual wear and not that comfortable. While the toe-box is roomy allowing great toe movement, I found the elastic around the shoe to cut into my feet especially the left foot. Podiatrist applied bandage tape to foot to eliminate the rubbing. Short lived, needed to apply bandaid continually. The shoe has stretched somewhat especially the right foot, so now slipping off, no good with sox as they keep pulling down, and shoe slips off during walking. Currently using as slippers only. Very expensive slipper. Will not be interested in purchasing any other shoe. Not comfortable at all.
14/06/2021
Anonymous

Australia
I recommend this product
Comfort shoes
They are very comfortable and the bundled nerves under my right foot don't hurt at all.
08/04/2021
Anonymous

Australia
I recommend this product
Made for my feet:)
These shoes are perfect for my duck-like feet (a result of reconstructive surgery on both fore-feet). I loooooove the wide fore-foot and narrow heel design, the wonderfully comfortable cushioned minimalism, and they grip onto my feet - no walking out of these. A massive thank you for designing this incredibly practical yet super-stylish shoe - my feet are so grateful for discovering you :) Oh, and I'll be buying other Joe Nimble styles.