Customer Reviews
08/10/2021
Anonymous

Australia
I recommend this product
Excellent after sales service
Made what i though would be a complicated process very simple and stress free. I didn't like the first pair of shoes i ordered. nothing wrong with the quality or service in that respect, they just weren't what i expected. I procrastinate because imagined the process of changing them for something else would be a complex process. eventually i decided to make the effort. i was pleasantly surprised as to how easy B Primal make it for customers to exchange or return an item once the received it. Thanks B Primal and love the new Lems Primal 2 replacement footwear.
03/09/2021
Anonymous

Australia
I recommend this product
new customer
Shoes big enough to take the 'correct toes'. Feeling each step, not a lot of padding underneath for me. What does a female do in summer, when you wear sandals constantly?
18/08/2021
Christie G.

Australia
I recommend this product
Comfiest Shoes Ever!
I loved these shoes the moment I saw them and put them on. The colour is a beautiful earthy green and they are seriously the comfiest shoes I've ever worn straight from the get go. The first time I wore them I wore them for several hours straight without a single sore spot on my foot that night. Been wearing them ever since. Love them!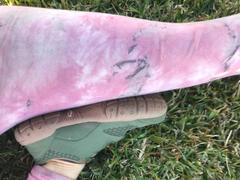 10/08/2021
Anonymous

Australia
27/07/2021
Marnie H.

Australia
I recommend this product
Love them
They are so comfy, my toes can expand in them and feet can flex when walking, I love them.