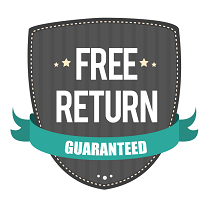 Free Return Guarantee
7237020025026
30
HOW IT WORKS IN 4 EASY STEPS

Opt in for $1.99 when you checkout checkout
If you need to return an item to us, lodge your return within 30 days of receiving your item via our online returns portal (link here)
Print your Free Shipping label and drop it off at a local Sendle drop off location* (view locations here) 

If you opted for an exchange, we will send your new item once we receive and process your return
NZ CUSTOMERS: Please choose MAIL when completing our online portal and email us to receive your pre-paid label. You will need to drop your package off at any NZ post store.
PLEASE NOTE THIS ITEM CANNOT BE USED FOR CLEARANCE ITEMS WHICH ARE NOT ELIGIBLE FOR RETURN
*If you do not have a Sendle location near you, please contact us prior to sending your item back so we can provide you with an Australia post label. We do NOT reimburse postage cost so make sure to contact us so we can provide a label to you.