Customer Reviews
07/12/2021
Anonymous

Australia
I recommend this product
Love The Lems
They are awesome.
16/11/2021
Anonymous

Australia
I recommend this product
Great shoe, but as comfortable as the Primal 2
This is a solid built shoe, and with it it comes a bit more stiffness. Overall the fit is marginally narrower then the Primal 2 (better without the insole), and significantly more rigid and weighty. The heel cup is a bit stiff and high, so it does take some breaking in, but it offers excellent grip on gravel and good looks. A good shoe for what is intended - although I would love to see Lems producing a Primal 2 with an all terrain sole!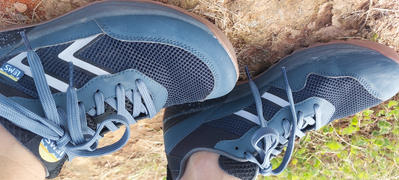 05/11/2021
Cee M.

Australia
I recommend this product
Finally - sneakers that fit my wide feet!
Even in a wide new balance sneaker I found my metatarsal bones were getting pushed together. I love love love my Freet Citee but my feet fatigue after walking on concrete. The Lens Primal Pursuit give me the width and padding I need to walk on the footpath for kms.
27/10/2021
Darcy

Australia
I recommend this product
Love Em
Just went for my first walk in these and they rock! won't need any other shoes now. Next pair will be for work. Top quality, and the service from BPrimal was excellent.